If despite planning your outfits over the weekend, or even having downloaded a virtual closet, you can't end up your desperate "What do I wear?", we have the solution: we tell you how to build a capsule closet.
It's not the solution to your life, we know, but a part of it. To a travel planning, or even work wardrobe, but -WARNING! – do not limit yourself to a capsule closet for life. With it, you solve with style those 40 minutes you lose every morning, but you would still need a touch of personality and variety for this to be your only closet. Anyway, it's a good start.
Step 1: Define your garments
So, this is all you need:
1.-Two formal pants: We recommend it to be dark. Ideally you have a straight cut black and maybe a striped or checkered fabric, or some neutral color (blue, gray, Brown).
2.-Two jeans: We choose different cuts, a straight one and a cutboot, or a skinny and a straight one. And always different colors. You can choose the cut you feel is best for your body type, but it should be noted that they are two different trousers to the naked eye.
3.-Two sweaters: At least one in a bright color, and another neutral. When you choose colors in the professional area, handle it about blue, red, dark green and violet. Those colors show seriousness, sophistication, commitment and trust. The rest of the colours should be reserved for the accessories.
4.-Three skirts: According to your favorite shape, choose three skirts that you can use in the professional area. Ideally, they are of three different colors (at least two neutrals) and varied cuts. One must be straight (it fits us all;))
5.-A white shirt: With the detail you want (flying, bows, flowers, Mao neck) but white and smooth.
6.-Two cardigans: Keep in mind that they should be used on basic T-shirts, which we do not include in the closet because it is almost as obvious as including underwear (which you should wear without any doubt, even if you do not see it here).
7.-A little black dress: As basic as possible, but not a large shirt. Firm fabric, flattering cut. Here you can read how to find the perfect Little black dress.
8.-Two blazers: Both neutral tones, different cut.
9.-Two coats: For natural reasons, one of them will be a pilot (or Trench), and the other one a coat.
10.-Five blouses or shirts of easy combination: Here we have free way (almost), because we can provide prints, textures, different types of genres and colors. If you choose colors, keep the ranges you already chose for other items. It should be deep and easy-mixing tones.
11.-Six pairs of shoes: Light heels, dark heels, flat or ballerinas, high boots, low boots, and some pair that has to do with your personal style and that is not classic. In the cupboard we made by way of example, a unique pair of Dolce's with chunky heels that are to die for! We're sure you have a pair of shoes that are your personal signature, use them!
12.-A good amount of accessories of many colors and styles, not to get bored with your closet. Scarves, hats, watches, hoops, bracelets, necklaces, furs, spectacles, the sky is the limit!
The result will be something like this: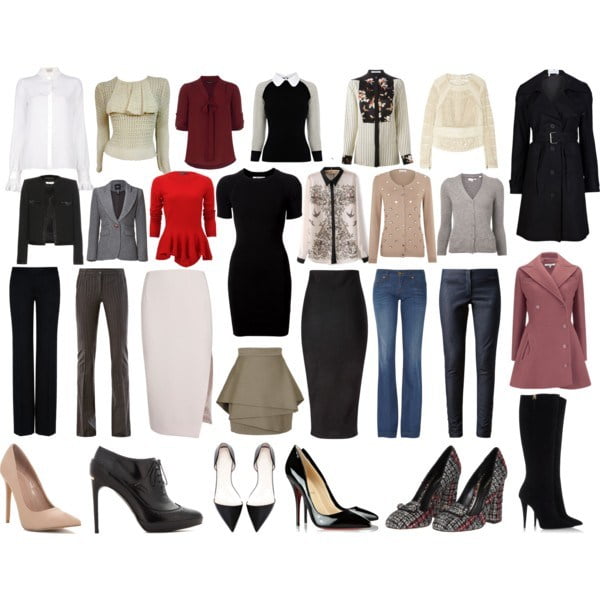 Step 2: Assembling the Assemblies
Now, in the choice of colors, keep in mind that the more neutral tones you have (counting blue and red), the more combinable it will be. The idea is you can wake up in the morning and literally grab the first thing you find, and still all COMBINE.
Surely you will notice that we then have 5 important layers of "choice" in garments:
-Something on top
-Something on bottom
-Footwear
-Coat
-Accessories
We took one of each, and the problem is over. Let's see how the possibilities work with each garment below:
 
Are we allowed to say that everything combines?
So you made it! You have your capsule closet, "lack of time in the mornings"-proof.
Tell us how it turns out!
Inspire a friend. Share us!