Fighting the cold is everyone's concern, especially if you suffer from it and cannot avoid going to work outside the home. What to wear in winter is not child's play if you want to keep your style intact. So we tell you which are the warmest and most glamorous fabrics when it comes to fighting the cold, the wind, and the rain.
Maintaining the style and not being cold is possible. I always thought not, because I hate winter and I can't wear enough clothes (one over the other) not to feel cold. So I resigned FOR MANY YEARS the style during the winter, in order to feel a little warmth in my outfit.
But after trying garments made with these fabrics, I've been enlightened. The key is to find the right fabrics to keep out the cold, rain or wind, and combine them exactly to have total protection.
If you live in a place with a constant cold climate, you will surely know the benefits of the fabrics that we are going to mention, but it is always good to see more ideas on how to use them.
And if winter caught you by surprise this year, you will meet 5 allies that you will never want to leave aside when choosing your outfits for the cold.
Leather is the greatest wonder that can exist. Be it natural or ecological, the impermeability that it presents is absolute: neither the wind nor the water can against it.
Surely you already have a coat of this material, and even more so, bags or footwear. But leather is also a great ally for undergarments: pants, skirts, vests, even dresses!
Leather is warm because it keeps body heat inside the garment, and you can find it in a number of textures, thicknesses and styles so different that they make it perfect for any type of clothing. Would you be very surprised to see a nappa blouse?
Look at the variety of leather garments that we can find, and you will see how easy it is to get hold of this fabric in the winter.
Leather is not the most common in garments such as pants, skirts or dresses. Perhaps you are more used to seeing it in accessories, but look how easy it is to combine it to make your winter outfits something comfortable and cozy.
But seeing it on the hanger is not the same as seeing it on. Sure, you may still find it difficult to wear a leather dress and make it comfortable and comfortable. That's why we show you how it-girls wear them.
And that's why Coco loved him so much. Tweed is a fabric made with wool and threads (of different elements), which are intertwined in such a way that they make beautiful patterns on the fabric: gasped, squared, houndstooth and many others.
Being made with a closed weave, and containing wool, it is extremely warm. Of course, there are summer tweed with only threads, but we are not going to choose that one. If your routine involves an office, I am sure you have seen or have some tweed garment.
And if you have not yet tried the wonders of this warm and stylish fabric, I recommend doing it. It is suitable for all styles! If you have a rocker or pin-up style, even a romantic style, there is tweed for everyone.
As if that were not enough, you can also find a variety of garments with this fabric: dresses, skirts, jackets, winter blouses and pants. All your outfit could easily be tweed. It is a docile gender that can be adjusted to all types of garments and bodies (very important). Look at the variety you can get!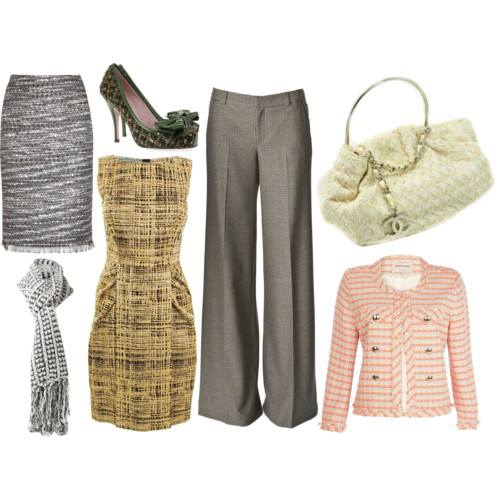 I understand that, at first glance, it may seem like a very "lady" fabric, but don't be fooled! Tweed is highly adaptable to any style, you just have to learn to play with it and mold it to yourself. Some examples below.
Here's the thing: maybe you like the IDEA of using it, and you will even be excited to IMAGINE YOURSELF with some of these styles that we show you. But are you wondering if you can actually get up one morning and wear a tweed suit or super heavy wide leg pants?
See how these fashionistas do it!
Wool is a winter classic, but not all wool has the same warmth.
Synthetic wool will never heat as much as natural wool, and even within the latter you will find a large amount of fibers, many of which warm more than any other existing fabric.
For example, the Alpaca, the Kashmir (a goat native to Tibet) and even the llama and the vicuña are highly valued for their ability to produce and maintain heat. Wool contains small curls that form air chambers that act as an insulator. In addition, it is hydrophobic, as it repels water and humidity.
But it's not just about physics. Wool is very versatile when it comes to weaving, so it allows you to make thick, medium and fine fabrics, with a large number of stitches thanks to its flexibility. That makes it possible to make garments for all styles.
We show you some garments made with wool.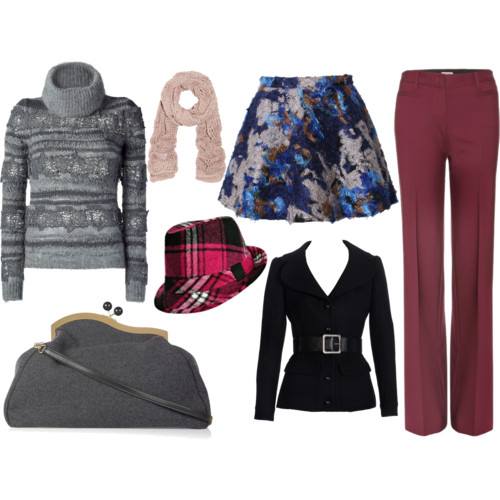 We are sure that perhaps there are wool garments and accessories that you did not even know were made of wool. But it is so versatile that you will find it in many formats.
So you can see in the following sets how to use your wool garments and style it according to your own style.
See how it-girls use it on a daily basis, and get inspired to elevate the game of your own style!
Leather, synthetic or real, has a great warming power. This is due to the air chamber that forms between the fibers, which protect the heat from the outside.
But in addition, leather has characteristics that all lovers of fashion and style value: volume, texture, softness, and that je ne sais quoi. So we use it in coats, vests, dresses, skirts, sweater and on the edge of almost any garment.
But it can be more versatile than it seems, you just have to look at this collection to see it.
You probably already have in mind some outfits in which you could wear the top garments to wear in winter.
But since we love to style, we show you some sets to add ideas to your own look.
We also leave you a bit of streetstyle inspiration to add to your outfit ideas. Feel free to try new things to enrich your own style even more!
It is a super warm cotton fabric that is used a lot in casual clothes, but that does not mean that there are not sexy and more arranged clothes to wear this genre in cold weather.
Being made of cotton, its coat capacity is enormous, but it is also a versatile genre with which an impressive variety of garments and accessories can be made: pants, t-shirts, sweaters, dresses, coats, shawls, ponchos, blankets, gloves, scarves , and even pajamas!
Do not you believe it? Look at this variety of clothes.
Can't imagine wearing fleece clothes?
We give you some ideas for outfits that contain fleece pieces, and you can also see what to pair them with and how to style them.
If you have not yet convinced yourself of the power of this genre and how warm the garments made with it can be, we will show you how it girls use it on the streets.
Take note so that you can add some tips of use to your own style!
Do you see yourself wearing these clothes? Tell us in the comments if you use them to dress in winter and how you combine them to maximize the coat.
Inspire a friend. Share us!