Even try to styling up a uniform is, for many, a torture. It is a flat, monotonous thing, usually with unfavorable cut lines and, moreover, boring. We can quickly fall into a routine and put on our clothes to go to work without too much effort or concern about how we look. Error!
But not everything is lost!
There are ways you can take advantage of your uniform, take it to a dressmaker to have it fitted to your body, and remove that hideous square shape that most generic garments have.
In addition to the cut, it is super important that you ask if you can wear garments with the same characteristics that you get yourself (or if your job can take the charge, much better). Sometimes by not asking we miss the opportunity to be more comfortable at work.
For example, if your uniform is a white shirt and black pants, you will probably only keep the one you get at work. But there may also be the possibility of varying the length of the sleeves (instead of short or long, three-quarters or perhaps Chinese sleeve), and if we don't ask we will never know. This is one of the tricks of styling up a uniform: ALWAYS ASK.
Styling up a uniform with accessories
There are many styles and mixes of styles that you can add to your uniform with just a few accessories, changing shoes and coats, and generally achieving different looks with the same base.
Keep in mind that we take a very normal uniform, you may be more limited by the colors of the company you work for, but this is just a sample that can serve as inspiration to transform yours.
If you have any questions, do not hesitate to contact us on our Facebook. We will respond as soon as possible and we can help you with your particular uniform by giving you many ideas!!
Let's start, shall we?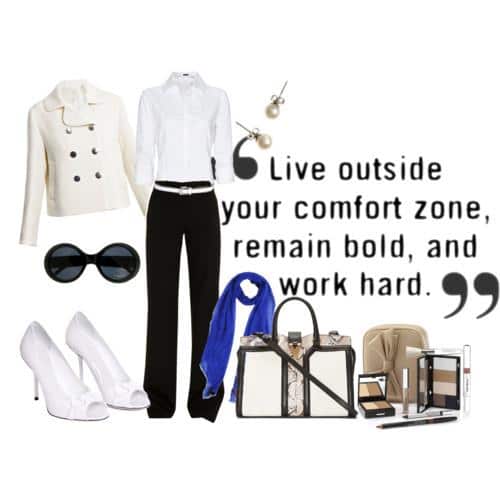 This is a retro style ideal for office or customer service positions. It is clean, sophisticated, simple, and neutral. It barely has a blue scarf, which is part of the uniform (many jobs have this badge, you'll see how easy it is to include it in the look).
So we used the typical black dress pants, a 3/4 sleeve shirt and as a touch, a thin white belt. The short double-breasted jacket and the peep toe shoes are the retro touch that evokes Jackie. To finish, a bag in neutral tones and soft makeup.
Would you use it? You can see below the items to buy this look!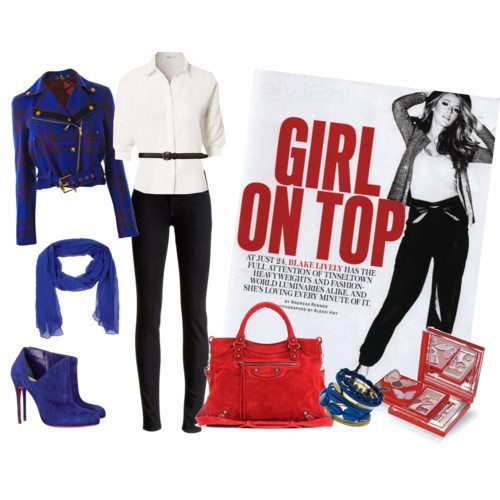 This set shows you the uniform with the white shirt and black pants (with the blue scarf), transformed into a rocker look. But we are not focusing on the typical rocker style of studs and tongues out, but on a real one.
That's why we wear skinny jeans (something almost any rocker has), and a shirt to the body, with sleeves rolled up. We accessorize with blue ankle boots and a flannel-inspired jacket. To combine, we finished off with a red handbag and blue and gold bracelets. We also add a thin black belt above the shirt, which gives it a more formal touch.
We show you how you can buy this look!
A very classic style, keeping the black and white and with super high red heels to give it a touch of elegance. In addition, we changed the typical dress pants for a palazzo pants and added a wide belt above the shirt.
We chose the blazer with a belt to cinch the waist a little more. Look at the items in the set to get this look!
And if you thought that a black and white uniform could not be romantic, you have already seen that it can.
We chose a lilac shade and a glittery buckle belt detail, a gradient blazer and classic pastel lilac shoes. We also add a purple bag, to vary the color a little.
If you want to get this look, we show you where to get it.
Another look with rock style, now a little more stereotyped. Studs, chains, leather and even a little fur.
We change the scarf for one more in keeping with the style. But we continue with the same base: classic white shirt and black skinny pants.
Do you want to see how to get these clothes? Copy the look!
Black and white in wonderland
We extend the black and white to the entire outfit and put a little glam and a little metal on it. Since we are playing with neutrals, both gold and silver can be used together.
We added a little in the heels, a little in the bag, a lot of accessories and a striped blazer to finish off.
See how to steal this look.
How about a nautical style for a change? With a double-breasted blazer, a combination of blue and red and some classic pattern (like stripes or pied de poule).
The nautical style is very classic and evokes retro, but in a fresh and always current way. You can probably build it with things that you already have in your closet, but just in case, we show you some items to try this look.
Some days we just deserve a little gold, statement shoes, and a simple denim jacket. We opted to choose ALL accessories in gold because a little glitter never hurts. And blue is the perfect touch to let it shine more.
If you want to try it, we leave you below some items so you can copy the look.
If you are interested in maintaining a classic but more modern style, we recommend adding the new neutrals: blue and red. It is very flattering to all colorimetries, there is always a blue and a red that works well for all hair, skin and eye tones.
And, incidentally, it takes off the beige and gray as obvious complements of the black color. We show you the items with which you can get this look!
Yellow is also a good complement to black and white. So do not hesitate to incorporate it into the pair, and finish it off with a complementary tone such as blue or purple.
The result is a creative style, with bright colors, some strong and striking patterns, a little texture in the bag and a little more color in the makeup. For played women.
We show you how to steal this style to wear it.
It is also possible to put together an equestrian style with the typical black pants and white shirt. Dark blue is an amazing addition to the equestrian look. Brown is a must, and we add the leather jacket as a rebellious touch.
If you like it and you dare to use it, we leave you ideas of items to buy and try this look.
And as these are the kings of basics and neutrals, we couldn't stop trying to style it with some glamour, an original and modern cloth jacket with an irregular cut, and shoes and accessories with leopard print.
And since the style is to kill, we choose the makeup soft. Would you dare to use it? We leave you below our online findings so you can try this look!
A little bit of victorian
We also liked the idea of adding a bit of baroque flair to a simple uniform. The dramatic touch is given by many factors: suede shoes with embroidery, a golden bag, multiple slave bracelets and a cap with volume.
And, as if that were not enough, the red color combined with the gold leaves the uniform in oblivion, which although simple is the perfect complement. We leave you some ideas for clothes and accessories to complete this look!
Sophistication also comes hand in hand with purple. It is a great companion to blue and highlights a lot the level of a basic outfit like the uniform we have.
So we added some good heels, a stylish blazer, and a bag with a touch of wood to relax.
If you like the look, we leave you some items to achieve it!
Don't tell me that with that uniform you never thought of going straight for a Chanel look.
Well friend, you only need a two-color shoe, a detail on the belt, your chanel earrings or necklace and a typical jacket.
We leave you our favorites to complete the look. Give it a try and then tell us how it turned out!
Here we play double or nothing. We liked the idea of going two different ways for winter: short ankle boots with super high heels, or over the knee boots with more comfortable heels.
But both looks have something in common: a modern military air typical of a strong woman who knows what she wants. We show you below the garment that we liked the most to complete these looks. Try them!
Most uniforms are a blank canvas, so take advantage of it and paint a piece of art on top.
For this, we choose a very creative combination: turquoise, magenta and blue. In addition, in order not to continue giving way to black, we decided to complement with gray. If you dare, we leave you below some ideas of clothes to achieve this look.
Coral is usually combined with gold and white, but few people know the force it takes with navy blue or black.
For this look, we chose two classic accessories in a color that is not always valued. Do you dare to try it? We leave you the items that we loved to recreate this style!
We also took into account rainy days and how we cannot depend on rubber boots.
So for a more stylish look, we added black waterproof boots, a colorful pilot, and a contrasting handbag. This time, we change the scarf in case it is not included in your uniform.
If you would use this look, we leave you the items with which you can achieve it.
Wide-leg pants are a great bet if you're looking for comfort and elegance. We loved the idea of combining it with purple and gray, which are very sophisticated shades.
If you want to try this look, we leave you our chosen ones on the web for you to try!
Black and white is also suitable for Barbie looks, with a touch of Chanel.
We liked the idea of putting on a short classic cloth cape, and adding a pink patterned hat. The pink bag could not be missing, just like the classic heels.
We invite you to try this look, and we show you the items that we loved to try.
We loved the idea of putting together a look in shades of blue, replacing the scarf with a fur infinity, a crossed top with a belt and mittens.
It is a cold-proof look, with super high boots, covered with a cloth and leather and fur coat, all the ideal textures to combat the wind, rain and cold. So if you dare to try it, we leave you the ideal items to steal this look.
If the idea is to keep modernism without sacrificing sophistication, this is the look for you. The burgundy color is typical of sophisticated styles, and goes perfectly with a navy blue. 
Shapes are also important: straight trousers and a shirt with an elastic waistband finish shaping the style. The jacket, in the same way, fits the waist in an elegant way and gives it a touch of rebellion. 
Look at these ideal garments to steal the look.
If it is about preventing rainy days in summer, this is the solution. A light shirt, pants with a touch of embellishment, a light denim jacket, a giant colored bag, rain boots (a must have), and colorful makeup to combat the gray day.
We leave you some clothes so you can try the look.
Gray and red are safe bets. 
We loved the idea of putting a cropped sweater on top of the shirt, and dropping it over the pants. In addition, we add a gray striped blazer that gives a touch of sophistication to the look.
See how to steal the look.
This are just a few ideas. Well, 25 to be exact.
But you can totally set up your own style around this uniform. Just let your imagination play dress up and go with the flow!
Inspire a friend. Share us!