HEEEEEYYYYYY!! How are you all today?
Sure, right now you must be thinking "Yeah, hello Friend, but… Who are you and what are you doing here? "
Well, that question will be answered right now!
My name is Ana Koppel, I am Mexican and I am content creator for social networks, mainly for YouTube. My channel is about fashion and beauty, but occasionally I also do tags, challenges and vlogs. I like to think that there may be someone in the world who needs help for something, and someway I can contribute. My biggest motivation to do this is to generate a change and aware about the use of all cruelty free fashion, beauty and personal care products.
[instashow speed="1000" auto="1200"]
This incredible magazine has given me the honor of being a part of it. From now every month you will find this section called "CHALLENGE GIRL", and I can assume now more questions have emerged in your mind: "CHALLENGE GIRL, what is that?, what is this section about, what will I find here?, etc. "
And well, the answer is very simple. Here we'll be doing fashion challenges, beauty and some more things that come to our minds on the way. We will also be testing different products, and of course we'll be doing a lot of crazy things.
I can guarantee you that, in this section, you will always find something that can help you, but especially you'll have a lot of fun.
My goal is to provide you entertainment and a fun time to brighten up your day, but the most important thing is that you can always learn something of everything we do in this column.
I hope with this brief introduction all your doubts have been clarified! And well, say no more, let's start with the first challenge. 
I can assure you that we've all seen incredible hair clips on Instagram.
They always tell us that they are very simple to do and you'll be ready to go in less than 3 minutes, but… Is it true?
Well that's just what we will check today: Let's try to do 3 hairstyles and know if they are really so fast and simple, or if it will definitely take longer to be ready.
The number 1 hairstyle I saw a few months ago.
I thought it would be more complicated to do, but no. We just have to make a ponytail and mess it up a bit. Then we're going to need a hair doughnut, and we're going to create our Chongo. We also have to uncomb it a little so it has a very fresh and "untidy" appearance.
This hairstyle already looks very nice, and we can add a special touch adding a scarf and… Wow!
I was really surprised how easy and fast it was to do, plus the result looks beautiful. It's a look 100% recommended for those occasions we want to make it super simple, but we want to look still spectacular.
The hairstyle number 2 I have seen in many posts in Instagram.
The first step is to divide our hair into 2 parts. Then, we have to twirl one of those parts, and finally pass our hair iron to make our own spectacular curls. 
I've never believed that this really is a technique that gives good results, and yes… As you saw, I was right. It really doesn't leave us those curls that we'd expect. On the contrary, I felt my hair tangled and became a real mess. 
It took me a LOT of work to brush it after that, and I had to straighten it to continue with the other hairstyles. 
So, girls, I really don't recommend using this technique. Instead of helping us out of the rush, it's going to cause more trouble.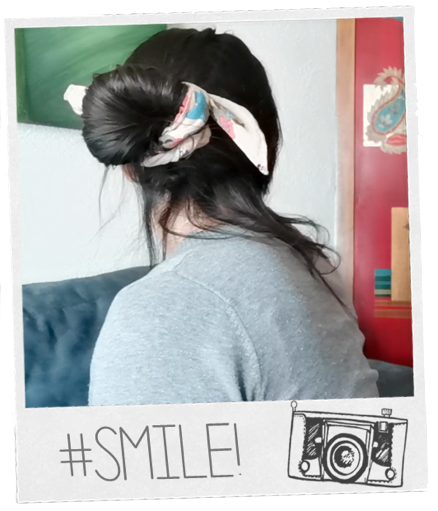 The number 3 hairstyle consists of simply taking a scarf, placing it on the ends of the hair and starting to twist it all the way up to the base.
Then we just have to cross the scarf and make a bun, to have an instant Chongo. 
This type of hairstyle I had always seen in short hair girls, I find it too easy and simple to do, although it's not a hairstyle that can go to all the girls. 
In my case, as you have seen, I have very long hair. And this hairstyle is very slow and complicated, because the longer the hair the less structure will have the hairstyle.
But… If you have short hair, this will be perfect and in a few seconds.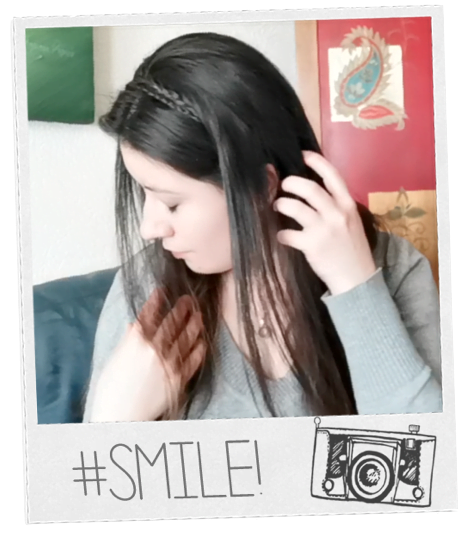 I decided to make a fourth hairstyle that was suitable for all types of hair: Long, short, curl, straight, wavy, etc.
And believe me, in less than 2 minutes we'll be super ready.
All we have to do is take a small portion of the hair behind the ears. We will make a small braid on each side and finally we'll cross it to the other end (as if it were a headband).
Now, simply, we have to hold the braids with some pin and… ready!
It's an easy, fast and super simple look to make… Besides, it looks amazing! Who would imagine we did it in less than two minutes?
And well, my beautiful girls! This has been all for today. 
We already saw that the Instagram hairstyles are not always as easy to do as they seem, although there are some others that can surprise us enough. 
I recommend that you experiment, and try all these tutorials. A new look is always surprising. 
I hope you liked this little challenge a lot, see you next month!
XOXO
Ana Koppel
Youtuber, charismatic and full of sparkle.
She desn't know the word "fear" and she lives everything intensely.
Animal lover and a believer that you can make a difference in the world by protecting animals. Exclusive user of Cruelty Free products.
Always looking to do different and original things. Crazy about makeup and image counseling. In essence: A girl like you, but definitely unique.
Follow her on her networks to get to know her more!